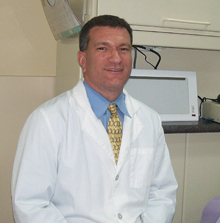 Dr. Seth Freedman
Dr. Freedman earned his DDS degree at the prestigious University of Maryland School of Dentistry in 1995 following his graduation from the University of Missouri in 1991. After working as an associate in a number of practices in Illinois and Missouri, he finally joined Dr. Michael Heiland and the Discovery Dental Centers in 2005. The Wildwood location quickly grew and Dr. Freedman was able to recently purchase the practice from Dr. Heiland and is now the sole owner and operator. Now called Freedman Dental Care, Dr. Freedman serves patients of all ages with contemporary family and cosmetic dentistry.
Dr. Freedman grew up locally in nearby Chesterfield and now resides in Ballwin with his wife and two young sons. When he isn't restoring and improving the smiles of Wildwood, he enjoys spending time with his friends and family. Both his sons are active in sports and when they are not supporting the Cards, Blues, Rams, or Mizzou, they can usually be found at a local ball field, tennis court, or golf course.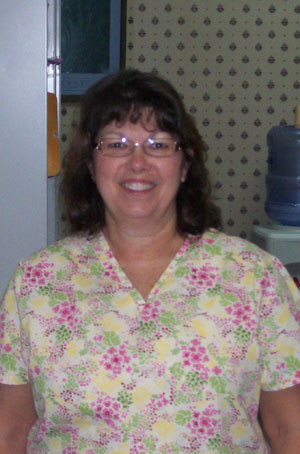 Cathy, front office
At every visit, Cathy's smiling face will greet you when you arrive. She finds this career immensely rewarding because she loves helping people. Working in dentistry allows her the opportunity to promote health, wellness, and self-confidence-- life changing and life enhancing qualities.
Cathy started out as a dental assistant in 1997. She became certified as a registered assistant later that year. With Cathy's personality she quickly added even more skills and responsibility and became an office manager, receptionist and financial coordinator by 1999. Since then, she has become an expert in maximizing dental insurance plan benefits. She will make every effort to help tailor a plan to fit your individual needs, whether that involves financial, scheduling or other concerns.
When Cathy isn't working with patients, she enjoys spending time with her husband, their pets, and their 18 grandchildren! She also likes cooking, baking, camping, riding four-wheelers and crocheting.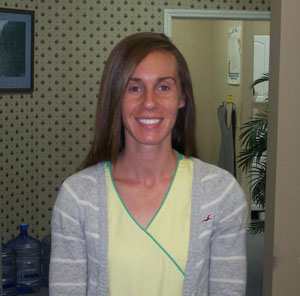 Carrie, dental assistant
Carrie has been a dental assistant since 2003 following her graduation from Missouri College. She has a way of putting her patients at ease, with either a simple laugh or a friendly chat. She develops a close relationship with her patients, making them feel more like a friend than just another patient.
Carrie is a very active member at Peace Tabernacle United Pentecostal Church. She has been born and raised living for the Lord and He is number one in her life. She's engaged and is currently busy planning for their October wedding. Carrie and her fiance are strong members of their church's children's ministry.
When she's not working at the office, she's off spending time with her fiance and family. She also loves to spoil her young nephew and niece, and hopes to start a family of her own soon.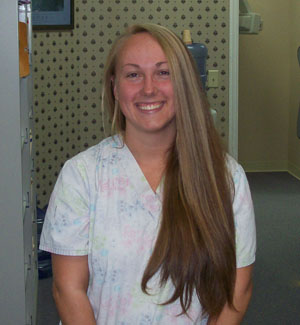 Wendy, dental assistant
Wendy has been a part of the team since she graduated from Allied College in 2007. She enjoys her job and her patients. She really goes out of her way to make her patients feel like family when they are at the office.
Wendy is an active member at First Baptist Church of Cedar Hill, where she volunteers as a Sunday school teacher and also works in the nursery. She and her husband are busy with their two dogs, seven nephews, and one niece.
When she isn't working, Wendy loves playing with her pets, remodeling their house and spending time with her family.
Carolyn, dental hygienist
CCarolyn has been working with Dr. Freedman since he landed in Wildwood in 2005 and together they have built a hygiene program designed to provide the highest possible periodontal care for you and your family. With a variety of treatment options available, the team at Freedman Dental Care can customize a plan to fit your individual needs, whether it be routine 6 month cleanings for patients with excellent oral health, or more aggressive treatments to resolve existing periodontal disease.
Carolyn graduated from Forest Park Community College with her RDH degree in 1999. Though she is passionate about cleaning teeth and caring for her patients, this past year has been especially rewarding for her as she has also gotten married and became a first-time mom. Carolyn is currently on maternity leave until Thanksgiving, and although we all miss her at the office, we know she is enjoying her time at home with her husband, step-son, and new daughter.
Toni, dental hygienist
Toni has been a hygienist since 2000 when she graduated, as well, from Forest Park Community College's dental hygiene program. She enjoys taking care of people and making them feel comfortable in the dental chair. Her easy-going personality and excellent clinical skills have enhanced the practice since she joined in 2009.
Toni is married with three children and two step-children. Her oldest daughter just began college and is considering a career in dentistry just like mom. Toni loves animals and enjoys spending time with her family, which includes a dog, a cat, and two bearded dragons.